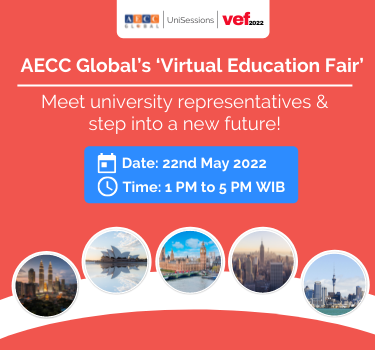 AECC Global's Virtual Educational Fair - 2022
The best place to begin your study abroad adventure!
AECC Global's multi-destination 'Virtual Education Fair' is finally here, and it has come bearing a lot of advantages for aspiring international students. 
If you are someone who is aspiring to study abroad and wondering which destination you should head towards to study, join us at our Virtual Educational Fair!

Virtual Education Fair - an event that's part of AECC Global's Unisessions series, is a one-stop solution specially designed for students to interact with representatives of top-notch universities from the USA, the UK, Australia, New Zealand, Malaysia & Indonesia all under one roof. This is a one-day multi-destination virtual event exclusively organised to benefit Indonesian students. To make your academic journey hassle-free, representatives from over 20 universities in the USA, the UK, Australia, New Zealand & Malaysia are participating in this premier event to guide you along the right path.
Have one-on-one interactive sessions with the university representatives.
Know all about the scholarships available.
Get information on popular courses from all five destinations.
Get more up-to-date information about intakes offered.
Gather information about admission and application process.
Explore the various PR possibilities available to international students.
Participating Universities
Federation University
Australian Catholic University
Deakin University
Swinburne University of Technology
Central Queensland University
Curtin University
The University of Western Australia
Charles Darwin University
University of South Australia
University of Auckland
Waikato University
Lincoln University
Edmonds College
Kaplan US

Pace University
Arizona State University
Simmons University
University of Connecticut
Northeastern University
BPP University
University of Portsmouth
University of Essex
University of Northampton
University of Dundee
INTO UK

University of London
INTO London World Education Centre
INTO Manchester
Manchester Metropolitan University
The University of Manchester
INTO Newton A level Programme
INTO University of Stirling
Newcastle University
Queen's University Belfast
University of East Anglia
University of Exeter
Asia Pacific University of Technology & Innovation
Participating Universities
We at AECC Global provide our students with the right information backed by our expert counsellors' knowledge and believe in providing constant support through every step of the way, to make their study abroad journey as seamless as possible.
Our award-winning team of registered migration agents and PIER-certified education consultants have helped over 45,000 students from over 40 nationalities successfully study with top universities and education providers worldwide.